---
GAIN
Bona
Sight
Standard 3A Grade
ASTM D1729
Color Matching Environment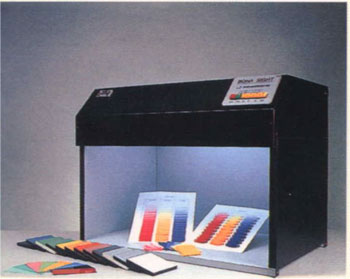 Features
1. Multi Light Sources for color matching
With our several years understanding, a single light source could never solve the problem of color changes. So we employ standard average north-sky daylight with a color temperature of 6500k and standard Tungsten (A light source) with a color temperature of 2856k to solve the problem of metamerism. Because the difference of the two light temperature has included other light sources: fluorescent light and average sun light (C light source), so, if under Daylight and standard A light source could have a consistent color, then, there shall be no distinct difference under other light sources. It has solved the problem of single light source in an efficient color matching operation.
2. Identifying Ultra-Violet Light Source
Ultra-violet (UV) light can precisely indicate the fluorescence of colors. It is especially important for fluorescent whitening substances and will effect an exact and speedy matching of colors.
3. High-efficiency Fluorescent Light Identification
Similar fluorescent light can be added to the color matching fluorescent light used by your customers (such as TL84, CWF…) to match the color matching environment of your customers.
4. Adjustment of the high/low of light sources
An appropriate selection of the high/low of light sources can be made according to darker colors, lighter colors and chroma for a better efficiency of color selection, matching and inspection
5. All-weather Advantages
It shall not be influenced by different brightness in the day, night or fair, cloudy or rainy climate, so that color matching and identification can be consistent
6. Common Color Matching Environment
Regardless of the location at the office, laboratory, factory, etc. We shall have a common and reliable standard color matching environment which will greatly reduce the cases of complaint or disputes from the customers. It will provide you with a smooth working condition.
Specification

Dimensions

74cm x 50cm x 55cm (2'5" x 1'8" x 1'10"

)

(Width x Depth x Height)

Weight

35 kg (77.2 lb

)

Power

110 or 220 VAC/60Hz

Light Source

Daylight Options:

7500K, CIE D75 North Sky Daylight

6500K, CIE D65 Average North Sky Daylight

Fluorescent Options:

Illuminant "A"

Ultraviolet (UV)

NB: We have wide variety of professional light sources, if you want any particular one, please email us and indicate brand, model of light source you need!
---